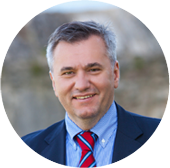 Robert Kolundžić
President of the Organizing Committee of SEEFORT
President of CrOS CMA
Dear Participants,
It is my great honor and pleasure to invite you, on behalf of the Organizing Committee of the 1st Southeast European Forum on Orthopedics and Traumatology (SEEFORT), which will take place from April 23rd – April 25th, 2015 in Dubrovnik.
We are also enthused to mark the 85th anniversary of the Croatian Orthopedic Society of the Croatian Medical Association. Our Society was established in 1930, which makes it one of the oldest in the region and has a strong tradition of education and promotion of the orthopedic profession.
Our aim is to transfer knowledge within the field of orthopedics and traumatology and contribute to the harmonization of educational programs and the profession itself with EU standards.
The concept of the Forum is based on the interactive relationship between participants and invited speakers from all over the World allowing for socialization and the fulfillment of Strokes' motto "Let's study together".
We hope that each participant will find his/her interest, regardless of whether he/she works on instructional lectures, consultations for the complex cases shown, or attends debates on issues from virtually all fields of orthopedics and traumatology that beset us.
Finally, we want to provide a positive and comfortable environment for the Forum to take place in, surrounded by wonderful Dubrovnik, a UNESCO world heritage site. Moreover, we wish to contribute to a fruitful learning experience, while new lasting friendships among practitioners of our great profession.
See you in Dubrovnik!
SEEFORT – the Southeast European Forum on Orthopaedics and Traumatology was granted 15 European CME credits (ECMEC) by the European Accreditation Council for Continuing Medical Education (EACCME).